Los Angeles Burn Injury Lawyers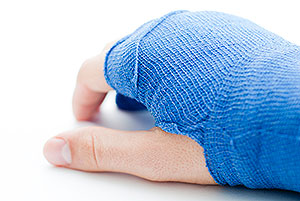 According to the American Burn Association, approximately 500,000 burn injury victims are treated every year. Recent national statistics state that in 2009 one person died every three hours in a fire. Severe burns are exceptionally painful, debilitating injuries. When the burn injury is very deep, at first, the victim may not feel a great deal of pain due to the destruction of the nerves in the area. However, recovery from this severe type of injury is arduous and usually involves many reconstructive surgeries. Without question, such a serious injury can alter the course of the victim's life. When you have been severely burned as a result of another's negligence, you will need the legal guidance of an attorney with decades of experience obtaining fair compensation from negligent parties. Contact attorney Martin Kaufman at The Kaufman Law Firm for a free consultation. He will devise and implement a masterful legal plan necessary to ensure your maximum recovery.
Serious Burns and Injury Claims
Many hospitals now have burn centers specifically to treat victims of these dangerous injuries. The specialized care which is necessary to prevent the victim from dying of shock and to ensure the wounds heal properly comes at a high price. Reconstructive surgeries are scheduled over a period of time to allow the patient to heal between procedures. A burn injury lawyer with our firm has the skill and resources required to represent a burn victim suffering from preventable injuries caused by:
Manufacturing or industrial accidents
Explosions
Heated liquids
Heated gases
Toxic chemicals
Electrical shocks
Vehicle fires
Building fires
Our firm is experienced in handling burn injury cases and has the assistance of experts in investigation to determine the cause of action and sources of compensation such as manufacturers of defective products or building owners whose negligence resulted in preventable injuries. Consult with a personal injury lawyer at The Kaufman Law Firm and trial lawyer, Martin Kaufman concerning your claim for damages. We are committed to pursuing the maximum possible compensation, based upon your injuries and other damages.