Los Angeles Rollover Accident Lawyers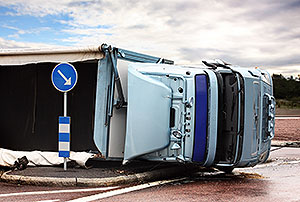 Rollover accidents are some of the most traumatic types of car accidents that a driver can experience. Most rollover accidents occur in top-heavy vehicles that do not have a low enough center of balance to compensate when the vehicle takes a sharp turn at higher speeds. There are many other potential reasons for a rollover accident , such as in cases where a vehicle is defective and fails to function properly, which inevitably leads to a rollover , or when sideswiped by a speeding or drunk driver. No matter what cause d the accident, it can be critical that you speak with a lawyer at your earliest convenience if you have been involved in a rollover accident and need legal guidance and representation.
The variety of injuries sustained in a rollover accident are generally consistent with other car accidents, and include such injuries as broken bones, lacerations, sprains, lost limbs, spinal injuries, and head and brain injuries to name a few. In some cases, passengers and drivers may even be thrown from the vehicle entirely, vulnerable to a whole new host of possible injuries outside the protective cab of the vehicle. If the injuries sustained are severe enough, they may ultimately end with paralysis or other long-term injury that requires lifelong professional medical or nursing care. In the most unfortunate cases, rollover accident victims may experience extended complications that result in a wrongful death.
Rollover Accident Injury Claims
Over the proud history of our firm, The Kaufman Law Firm and its founder, Martin J. Kaufman have represented many car accident injury victims in rollover accidents. Our skilled attorneys will work hard to understand the details of your case including your injuries, specifics of the accident and the predicted time of recovery from injuries sustained. We can use the details of your experience to build a compelling case intended to achieve success in terms of financial compensation. We take our responsibility to help you very seriously, and our impressive record of success for clients is a strong recommendation for contacting our firm.