Los Angeles Texting and Driving Accident Lawyer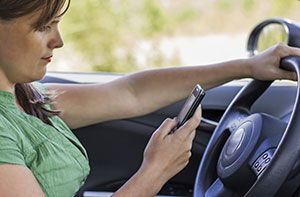 Rapidly on the rise throughout the United States, texting while driving is by far one of the most dangerous forms of careless and negligent driving that a person can engage in on the road. Today, this type of gross negligence is a common cause of accidents on city streets, in residential areas, and on highways as well. Even in seemingly low-risk environments such as parking lots, those who text while driving are perhaps as at risk of causing a serious car accident as a person driving under the influence of drugs or alcohol. If you have been injured in an accident that was caused by another person who was texting when they should have been driving, consult the legal advice of a seasoned lawyer before taking any additional action.
As driving while texting is a very specific act of driver negligence, it can immediately be referenced as the reason for a serious motor vehicle accident, and the driver may be held responsible for any and all costs associated with treatment and recovery. The claim will also address current and future lost wages due to the victim's inability to make the living they were accustomed to prior to the collision. The injuries suffered in an accident of this nature are completely unnecessary because they could have been avoided. For this reason alone, the responsible party must be held accountable to any and all victims, and we believe that they should pay the maximum in a judgment or settlement.
Driving While Texting Injury Claims
Although driving while texting is a newcomer in terms of causes of serious car accidents in the United States, it has been on the rise ever since texting began. The Kaufman Law Firm and trial lawyer, Martin Kaufman have experience representing personal injury claims in cases where the negligent driver has been accused of texting, and our firm is familiar with the best strategies for proving fault and making a compelling case for compensation for the victims, or the victim's family cases of wrongful death. We can appreciate your needs in recovering from an injury you did not cause, and our dedicated legal professionals will miss no opportunity in terms of providing you with the highest quality level of representation. We will pursue the maximum possible compensation for our clients in any such injury case.