Los Angeles Dog Bites Attorney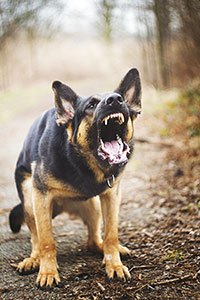 California law unlike some other States holds the owner of a dog fully responsible for the behavior of his or her pet. The law is very clear. Although dog owners often state that the dog has never attacked anyone before this is not a credible defense. The breed of the dog is irrelevant. The owner is strictly liable for injuries caused by the animal. After you or a loved one has been injured by a dog bite it is vital that you consult a personal injury attorney for advice in order to protect your rights.
Animal Attacks and Injury Claims
Millions of people are attacked and mauled by dangerous dogs each year. Over 700,000 dog bite injuries are treated by medical personnel annually. There are over three million injuries ranging from minor nips to severe mauling which can result in serious to fatal injuries. The majority of those seriously injured are children. Very often the animal belongs to a family member, friend or neighbor. The larger the breed and the smaller the victim, the more severe the injuries can be. Because dogs usually attack the hands, neck and face, extensive surgical procedures may be required to repair the damage and prevent disfigurement. Under state personal injury law you have a legal right to recover monetary compensation for your injuries. An experienced dog bite lawyer at our firm can help you with your claim for damages.
When it comes to preserving your legal right to compensation for your injuries, experience counts. Our lead litigation partner, Martin Kaufman has been practicing law for over two decades. He is AV rated by Martindale Hubbell, a leading legal publisher. Mr. Kaufman will personally oversee your case to ensure that you receive the best result possible as he has done for hundreds of clients. To discuss your claim with an experienced personal injury lawyer and get answers to your questions call The Kaufman Law Firm and trial lawyer, Martin Kaufman for a free consultation.