Los Angeles Truck Accident Attorneys
Dangerous Truck Accidents and Injury Claims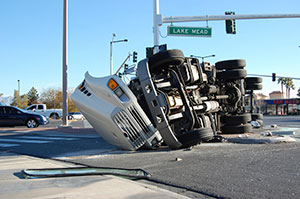 Truck accidents often occur due to the negligent driving conduct of an operator of a delivery truck, 18-wheeler semi, utility truck or other commercial vehicle that is owned by a company or organization. A CDL license is generally required to legally operate a commercial vehicle, and there are a variety of additional responsibilities that come with the operation of a powerful commercial vehicle, especially when sharing the roads with automobiles, motorcycles and other motor vehicles. It is of critical importance that the victims in any truck accident seek the immediate assistance of a dependable attorney in order to begin building the best case possible.
Due to the difficulty in the operation of a commercial vehicle and the additional safety concerns that may play a role, driving a truck is a responsibility that does require a commercial license and special training. When a truck driver displays negligence or carelessness in decisions in close proximity to other vehicles, accidents take place, which will almost always result in imminent danger for any other vehicle involved. Due to the sheer size, weight and power of a commercial truck, the type of damages that can be sustained is terrible, painful and shocking. Common truck accident injuries will almost certainly include broken bones, head or brain injuries due to the sudden force of a collision, spinal injuries resulting in partial or full paralysis, and wrongful death.
Truck Accident Compensation
The Kaufman Law Firm and trial lawyer, Martin Kaufman specializes in personal injury law, and has achieved successful claims for financial compensation for many clients, both in terms of out-of-court settlements and court-ordered judgments. Our legal team prides itself on their ability to work closely with every client in order to provide the highest level of legal representation possible. Our dedication, care and responsive legal representation allows us to build a solid case for financial compensation. These settlements must cover the costs associated with recovery, or lost wages in situations where the victim can no longer work to provide for themselves or their family. We value your right to receive the compensation you are entitled to, and our firm will aggressively pursue a fair resolution in your claim.